There are at least two questions that you and I should NEVER ask:
And Adam and Eve, his wife, ceased not to call upon God. And Adam knew Eve his wife, and she conceived and bare Cain, and said: I have gotten a man from the Lord; wherefore he may not reject his words. But behold, Cain hearkened not, saying: Who is the Lord that I should know him? (Moses 5:16, emphsasis added)
And the Lord said unto Cain: Where is Abel, thy brother? And he said: I know not. Am I my brother's keeper? (Moses 5:34, emphasis added)
First of all, consider the source and cynicism of these questions.
Secondly, consider the contrast that these questions pose to the Savior's answer in Matthew 22 when He was asked, "Master, which is the great commandment in the law?" It is interesting to me that the two questions presented by Cain are answered by the Savior in His response:
37 Jesus said unto him, Thou shalt love the Lord thy God with all thy heart, and with all thy soul, and with all thy mind.

38 This is the first and great commandment.

39 And the second is like unto it, Thou shalt love thy neighbour as thyself.

40 On these two commandments hang all the law and the prophets.
Another interesting contrast to Cain's questions comes from the answer that the Lord gave when the prophet Enoch saw the sadness of the Lord in Moses 7:
28 And it came to pass that the God of heaven looked upon the residue of the people, and he wept; and Enoch bore record of it, saying: How is it that the heavens weep, and shed forth their tears as the rain upon the mountains?

29 And Enoch said unto the Lord: How is it that thou canst weep, seeing thou art holy, and from all eternity to all eternity?

30 And were it possible that man could number the particles of the earth, yea, millions of earths like this, it would not be a beginning to the number of thy creations; and thy curtains are stretched out still; and yet thou art there, and thy bosom is there; and also thou art just; thou art merciful and kind forever;

31 And thou hast taken Zion to thine own bosom, from all thy creations, from all eternity to all eternity; and naught but peace, justice, and truth is the habitation of thy throne; and mercy shall go before thy face and have no end; how is it thou canst weep?

32 The Lord said unto Enoch: Behold these thy brethren; they are the workmanship of mine own hands, and I gave unto them their knowledge, in the day I created them; and in the Garden of Eden, gave I unto man his agency;

33 And unto thy brethren have I said, and also given commandment, that they should love one another, and that they should choose me, their Father; but behold, they are without affection, and they hate their own blood;
"Unto thy brethren have I said, and also given commandment, that they should love one another, and that they should choose me, their Father." WOW!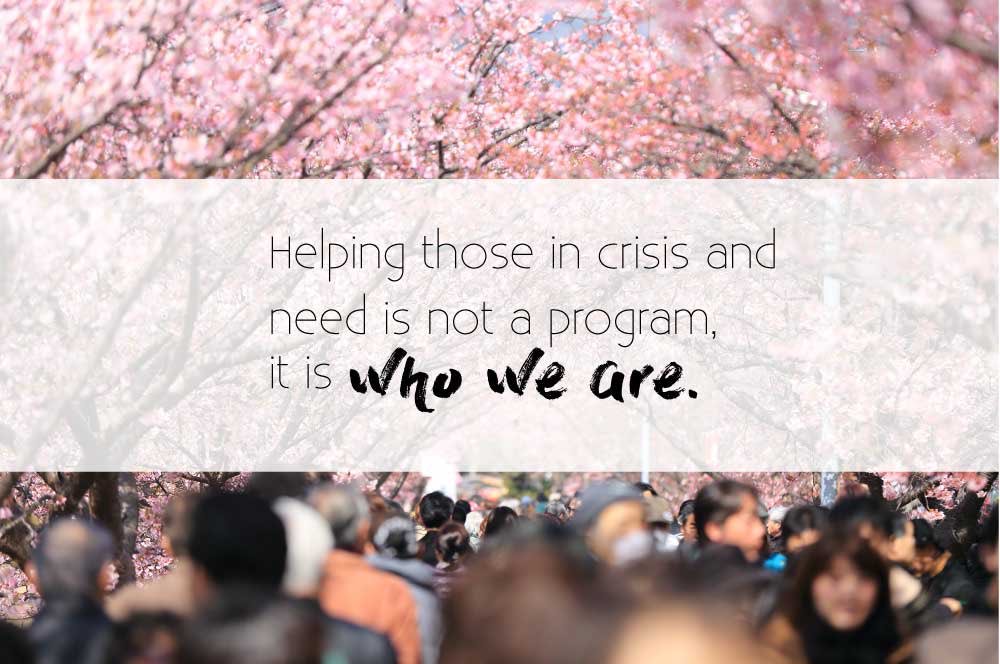 So how does this relate to today's reading? Well, think about the situation that the Anti-Nephi-Lehies were in. After the Anti-Nephi-Lehies made a covenant with God to never again take up weapons of war, the Amalekites and the Lamanites began to make preparations to go to battle against them. They had no one to turn to. They needed help. They were desperate. The only people that they could ask for help were the people that they had mistreated their whole lives–the Nephites.
Ammon led the Anti-Nephi-Lehies to Zarahemla, where they received protection from the Nephites and became known as the people of Ammon. They were given the land of Jershon for their new home and promised protection by the Nephite armies.
Alma the Younger and the Sons of Mosiah each exhibited the same kind of enthusiasm to become their "brother's keeper" as they set off for their long and eventful missions to bring everyone to the gospel (see Alma 26 and 29).
Remember when the Savior taught an important principle of the gospel in Matthew 25:31-46?
34 Then shall the King say unto them on his right hand, Come, ye blessed of my Father, inherit the kingdom prepared for you from the foundation of the world:

35 For I was an hungred, and ye gave me meat: I was thirsty, and ye gave me drink: I was a stranger, and ye took me in:

36 Naked, and ye clothed me: I was sick, and ye visited me: I was in prison, and ye came unto me.

37 Then shall the righteous answer him, saying, Lord, when saw we thee an hungred, and fed thee? or thirsty, and gave thee drink?

38 When saw we thee a stranger, and took thee in? or naked, and clothed thee?

39 Or when saw we thee sick, or in prison, and came unto thee?

40 And the King shall answer and say unto them, Verily I say unto you, Inasmuch as ye have done it unto one of the least of these my brethren, ye have done it unto me.
In the April, 2016 General Conference of the Church we were invited to be our "brother's keeper" as part of the #IWasAStranger efforts of the Church.
Here is a playlist that I created of the Church's invitations and efforts to help us to help others.
Relevant links for #IWasAStranger efforts:
We usually will not have to look very hard for opportunities to provide "refuge from the storm"
I believe it was around this time of year, when we commemorate the restoration of the Aaronic Priesthood, that I went on a "Father and Son" campout that taught me a difficult, but important lesson.
I am the oldest of six children, so one-on-one time with a parent was a precious commodity. I was excited to be able to spend some time away from the rest of the family with just my dad. Luckily, I had a pretty good relationship with my dad. It was during a time that our family was also struggling financially. There wasn't much money to go around and I was old enough to know what was going on (~12 years old).
My mom had put together some food for us to enjoy. Nothing really special, but under the circumstances it was a little more special than "the usual". To my surprise, my dad had invited another boy to come with us on this "Father and Son" outing. I didn't ask why; I was a little too annoyed by it to want to bring it up and make a bigger deal about it. The boy was older and I can't remember that I had ever met him before.
He worked at the same place as my dad. When we got to the camp site, we got everything ready and started to break into the food. I noticed the other boy had a few boxes of "Peeps" that he had gotten out. I am not a fan of Peeps, so I thought that was a strange thing to bring for a night of fun. Then, I noticed that my dad kept giving him "our" food (He has always been a VERY generous person–even when lacking.).
I tried to let it go, but I was a pretty immature and selfish kid. I don't remember if I said something to my dad in front of the boy or if I waited for a more private and opportune moment, but when I had the chance I kinda gave it to my dad and asked why he was giving away all of "our" good food.
He didn't get upset, but he was probably pretty disappointed–if he was disappointed he didn't let me know it. Instead he calmly explained to me that he was sharing with the boy because all the boy had to eat for the entire campout was those couple boxes of Peeps. I think the next thing I did was say something to my dad about how the boy should have known better and that he needed to face the consequences of his lack of preparation (that is the oldest of six speaking).
Now here is where it got painful. Not because my dad hauled-off and hit me or something, but because of what he said next. He told me that the boy's dad had recently died and that he didn't have anything else in his home that he could have brought to eat during the campout. Oh boy… oh, boy… I don't know if I have ever felt such guilt in my life. My heart sank. My conscience began to show me what a jerk I had been. I wanted to cry, not just because I realized how bad I had been, but because I felt a great deal of sympathy at that moment. I honestly didn't want to eat anything else all weekend (although I am sure I did).
I learned a LOT of valuable lessons that day. One was about making a conscious effort to be "my brother's keeper". I obviously didn't think about it in those terms at that age, but that was the message that sank into my heart. From that point on, it seemed like God would superimpose that boys face on the people in my life that needed a little extra help. I am sorry to say that I was not always as willing to jump in and help like I should have been. But I tried a lot harder, and I tried to withhold judgment a lot more often.
Anytime that I think of that experience (like right now) I feel such regret for myself, and sorrow for that boy. I can't remember his name, but I can't seem to forget the face as he holds that box of Peeps before my mind's eye. It was a tough lesson to learn, and perhaps God knew that it could never be taught–it had to be caught. I don't know. But what I do know is that the lesson was learned and it is still being applied today. It is one of many lessons that the Lord has taught me about being my brother's keeper.
On another occasion God let me be the brother who needed to be "kept" by another. It was about two years after the "Peeps experience", when a young ninth-grade boy showed me what it meant to be, "my brother's keeper". To him it was no big deal, but it was a BIG deal to me. His name is Deran Coe, and what he did made all the difference in the world for me.
I had just moved from the coast of L.A. to a suburb of Pittsburgh (specifically, Center Township, in the middle of winter). Having been a "beach bum" from the west coast for the previous eight years, I dressed and spoke differently from everyone else at Center high school. My first morning at school was not too bad because the teachers would just assign me a seat, introduce me quickly to the class, and move on to teach their lesson.
Then lunch time arrived… The worst thing about lunch for this "new kid on the block" (special reference for my wife), is that there were no assigned seats, and I didn't want to take someone else's "usual seat", so I awkwardly searched for a seat that looked like it wouldn't make my bad situation even worse.
Well, it was a small high school (less than 150 students in my graduating class) and the ninth-graders ate in a separate room from the rest of the upper-class students. The best way for me to describe it is to say that it was a lot like a typical LDS cultural hall. It had a stage and a large multipurpose floor. If I remember it correctly, it was filled at lunchtime with about 35 picnic-type tables that could sit about 8 students each. I think it was 5 rows of 7 tables.
It just so happened that I was one of the first students to the ninth-grade lunch room on my first day, so no one had really started sitting down yet. I always took my "sack lunch" from home, so I couldn't just stand in the lunch line and wait for things to fill in. I decided to take the far corner of the lunch room and hoped that my strategy would work out…
FAIL!
There were only enough students to fill in the first 2-3 rows of tables. That meant that there was at least 1 entire row of tables between me and my new classmates. I just hung my head and tried to drown my embarrassment in my peanut butter and jelly sandwich. I hadn't gotten too far into my lonely meal, when I heard a boy's voice. I looked around a saw a smiling student. He introduced himself as Deran, and asked if I wanted to come and join him and his friends for lunch.
SAVED!
The ironic thing is that there was no room at Deran's table, so I ended up at the table next to his. That is when I first met the great guys that I would spend most of my high schools days with: Steve, Brett, Jeff, Ryan, Chris, and Aaron.
Deran and I never really became the kind of friends that "hang out" together; we liked each other as friends, but we had different interests. However, because of that ONE little simple act of reaching out to me I had some amazing years of high school–the effects of which continue to this day. I have thanked him a couple of times, but he never really felt like what he did deserved any thanks. Sure it was simple, but it has had simply amazing results in my life.
I am grateful for the painful lesson learned so many years ago. I am grateful to have a father who took the time to be slow to anger so that the Spirit could be quick to teach. I am grateful for "Peeps" each Easter season, because even though I can't stand the taste they stand as a reminder of what God expects from me when dealing with His "peeps"–He expects me to be "my brother's keeper". "Blessed is he that considereth the poor: the Lord will deliver him in time of trouble. The Lord will preserve him, and keep him alive; and he shall be blessed upon the earth: and thou wilt not deliver him unto the will of his enemies. The Lord will strengthen him."(Psalm 41:1–3)
We ARE our "brother's keeper"!
Dayton's Legs
Out of love, a 13-year-old boy in Arizona pushed himself to the limit so that his friend, who has cerebral palsy, could participate with him in a triathlon.
My Brother's Keeper
Thomas S. Monson – April 1990
Parable of the Good Samaritan
A depiction of the Savior's parable of the good Samaritan, in which a man is robbed and beaten by thieves, and a Samaritan shows mercy on him.
Lord, I Would Follow Thee
The Mormon Tabernacle Choir sings "Lord, I Would Follow Thee."
Lyrics
1. Savior, may I learn to love thee,
Walk the path that thou hast shown,
Pause to help and lift another,
Finding strength beyond my own.
Savior, may I learn to love thee–
Lord, I would follow thee.
2. Who am I to judge another
When I walk imperfectly?
In the quiet heart is hidden
Sorrow that the eye can't see.
Who am I to judge another?
Lord, I would follow thee.
3. I would be my brother's keeper;
I would learn the healer's art.
To the wounded and the weary
I would show a gentle heart.
I would be my brother's keeper–
Lord, I would follow thee.
4. Savior, may I love my brother
As I know thou lovest me,
Find in thee my strength, my beacon,
For thy servant I would be.
Savior, may I love my brother–
Lord, I would follow thee.
Please leave your thoughts about a special verse, teaching, etc. that you enjoyed at one of the following:
REPLY at the bottom of each post at: bookofmormontranslationchallenge.wordpress.com
LIKE our Facebook page and post at: facebook.com/BookOfMormonTranslationChallenge
JOIN our Facebook group and share at: facebook.com/groups/BookOfMormonTranslationChallenge
TWITTER and INSTAGRAM users can use #bomtc for related posts: twitter.com/brosimonsays | instagram.com/brosimonsays